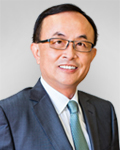 Mr. Louis Hsieh
Director and Senior Advisor
Mr. Louis Hsieh has served as our board director since March 2007 and Senior Advisor since January 2016. From May 2009 to January 2016, Mr. Hsieh served as our President, and from December 2005 to April 2015, he served as our chief financial officer. Mr. Hsieh currently holds the position of Chief Financial Officer at NIO (or NextEV). Previously, Mr. Hsieh was the chief financial officer of ARIO Data Networks, Inc. in San Jose, California from 2004 to 2005. Prior to that, Mr. Hsieh was a managing director for the private equity firm of Darby Asia Investors (HK) Limited from 2002 to 2003. From 2000 to 2002, Mr. Hsieh was managing director and Asia-Pacific tech/media/telecoms head of UBS Capital Asia Pacific, the private equity division of UBS AG. From 1997 to 2000 Mr. Hsieh was a technology investment banker at JP Morgan in San Francisco, California, where he was a vice president, and Credit Suisse First Boston in Palo Alto, California, where he was an associate. From 1990 to 1996, Mr. Hsieh was a corporate and securities attorney at White & Case LLP in Los Angeles. Mr. Hsieh also serves as an independent director of JD.com, Inc. (NASDAQ: JD) and YUM China Holdings, a NYSE-list restaurant company operating KFC, Pizza Hut, Little Sheep Hot Pot, Taco Bell in China.
Mr. Hsieh holds a bachelor's degree in industrial engineering and engineering management from Stanford University, an MBA degree from the Harvard Business School, and a J.D. degree from the University of California at Berkeley.